Yield: 9-12 servings
Time: 45 minutes
​​​​​​​INGREDIENTS
1 ¼ cups all-purpose flour
1 cup granulated sugar
⅓ cup unsweetened cocoa powder
¾ teaspoon baking soda
½ teaspoon kosher salt
⅓ cup canola oil
1 teaspoon vanilla extract
1 teaspoon apple cider vinegar or white vinegar
2 tablespoons semisweet or vegan chocolate chips (optional)
Confectioners' sugar, for dusting on top (optional)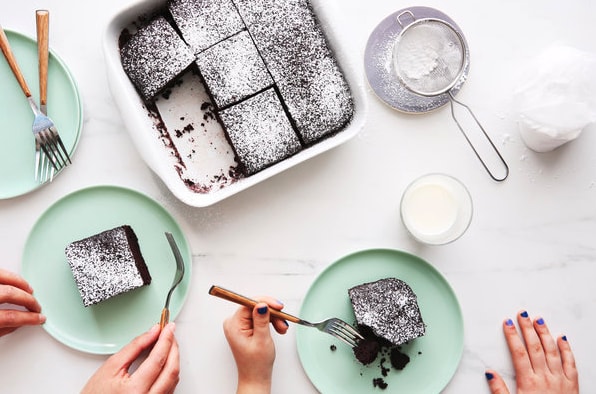 PREPARATION

​​​​​​​1. Heat oven to 325 degrees. Add the flour, sugar, cocoa powder, baking soda and salt to an 8-by-8-inch square glass or metal baking dish. Whisk the mixture together until uniform in color. Use your fingers to break apart any lumps.
2. Add 1 cup water along with the oil, vanilla extract and vinegar. Stir slowly with a fork or a whisk in small circles to blend. Mash, scrape and stir with a fork and spoon until the mixture becomes a smooth and uniform batter.
3. Scrape the sides of the baking dish with a rubber spatula and spread the batter in an even layer. Sprinkle with chocolate chips, if using.
4. Use a damp paper towel to wipe the edges of the baking dish clean. Carefully transfer the dish to the oven and bake until a toothpick inserted into the center of the batter comes out mostly clean, 28 to 33 minutes. (Instead of looking like you dipped the toothpick in chocolate frosting, it should look like it has some chocolate cake crumbs clinging to it.)
​​​​​​​5. Remove from the oven, let cool, then cut the cake into squares. If you're feeling fancy, this tastes good (and looks pretty) with some confectioners' sugar dusted on top.
Yield: 8 servings
Time: 20-25 minutes
​​​​​​​INGREDIENTS
50g rice vermicelli noodles
1 carrot, peeled
1 avocado, peeled and destoned
¼ cucumber
8 rice paper wraps
8 king prawns, peeled and cooked
8 mint leaves
½ cooked chicken breast, shredded
sweet chilli sauce, to serve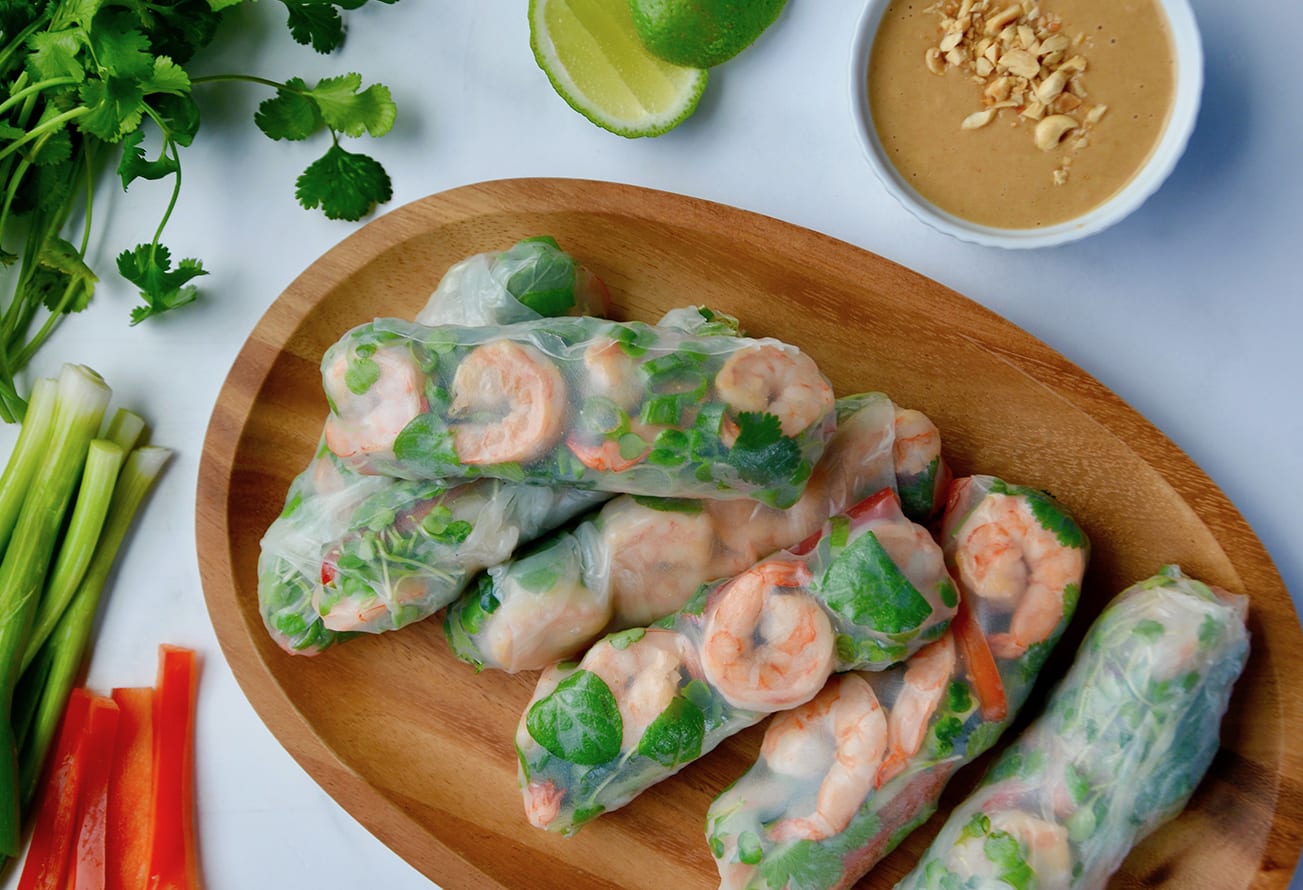 PREPARATION

1. Put the noodles in a pan of water and bring to the boil, simmer for 3 mins, then cool under running water. Drain thoroughly.
2. Cut the carrot into matchsticks using a knife or a mandoline. Cut the avocado into strips and the cucumber into thin sticks. Soak 2 of the rice paper wraps in cold water for 1-2 mins until floppy.
3. Lift 1 sheet of rice paper out of the water, shake gently, then lay it carefully on a board. Place 2 prawns in the centre, with a mint leaf between them. Add a strip of avocado, pile some noodles on top, then add a layer of carrot and cucumber. Fold the bottom half of the rice paper over, then fold the sides in and tightly roll it up. Repeat using the second wrapper and soak 2 more to make 2 more rolls.
​​​​​​​4. Make the rest of the rolls up using the remaining 4 wraps and the shredded chicken instead of prawns. Serve the rolls with the sweet chilli sauce for dipping.
NO-BAKE GRANOLA BARS
Yield: 12-16 servings
Time: 1 hour 20 minutes
​​​​​​​INGREDIENTS
2 cups old fashioned oats
1 cup crisp rice cereal
⅓ cup dried cherries
⅓ cup mini m&ms
⅓ cup chocolate chips
⅓ cup sunflower seeds
2⁄3 cup honey
⅓ cup peanut butter
1tsp vanilla
PREPARATIONS

​​​​​​​1. Pour the oats, cereal, cherries, m&ms, chocolate chips, and sunflower seeds into a large bowl and mix together.
2. In a microwave safe bowl, mix the honey and peanut butter. Heat for 30-45 seconds until the honey is warm and you can easily mix the peanut butter into the honey. Stir in the vanilla.
3. Pour the honey and peanut butter mixture into the dry ingredients and mix together, using your hands to get to the bottom of the bowl.
4. Dump the granola bar mix into a greased 9×13 baking dish. With greased hands or a piece of parchment paper, press the mix into an even layer in the dish, using as much pressure as you can while keeping it as even as possible in the baking dish.
​​​​​​​5. Cover the dish and place in the refrigerator for at least 1 hour before cutting and serving.
Yield: 8 servings
Time: 1 hour 50 minutes
​​​​​​​INGREDIENTS
1 package active dry yeast
1¼ cup milk, warm 110-115 degrees
¼ cup honey
1⁄8 cup melted butter
1 teaspoon salt
3 cups all purpose flour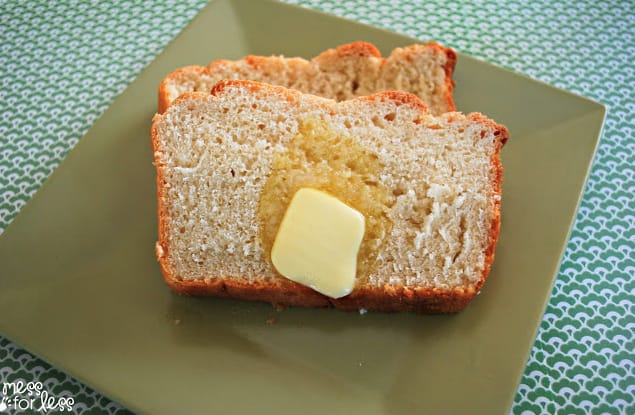 PREPARATION

​​​​​​​​​​​​​​1. Preheat oven to 375 degrees.
2. Dissolve one package of yeast into a bowl of the warmed milk. Next add the honey, melted butter, and salt. Mix to combine.
3. Add 3 cups of flour and mix with hands until a soft dough forms. Use additional flour for dusting.
4. Place the dough on a floured surface and begin kneading for about 10 minutes.
5. When you are done kneading, place the dough in a greased bowl and cover it. Place the bowl in a warm place so it can rise and double. This will take about an hour.
6. Next, punch down the dough and place it in a greased loaf pan. Cover the dough and place in a warm place for another 30 minutes until it rises and doubles.
​​​​​​​7. Bake for 30-35 minutes at 375 degrees. You may need to cover the top with foil if it gets too brown. Remove from pan when done and allow to cool.
Yield: 2 servings
Time: 5 minutes
​​​​​​​INGREDIENTS
¼ tsp peanut butter
1⁄8 tsp ground all spice
1⁄8 tsp ground cinnamon
1⁄8 tsp ground nutmeg
2 whole wheat pita pocket halves
½ medium apple, thinly sliced
½ medium firm banana, sliced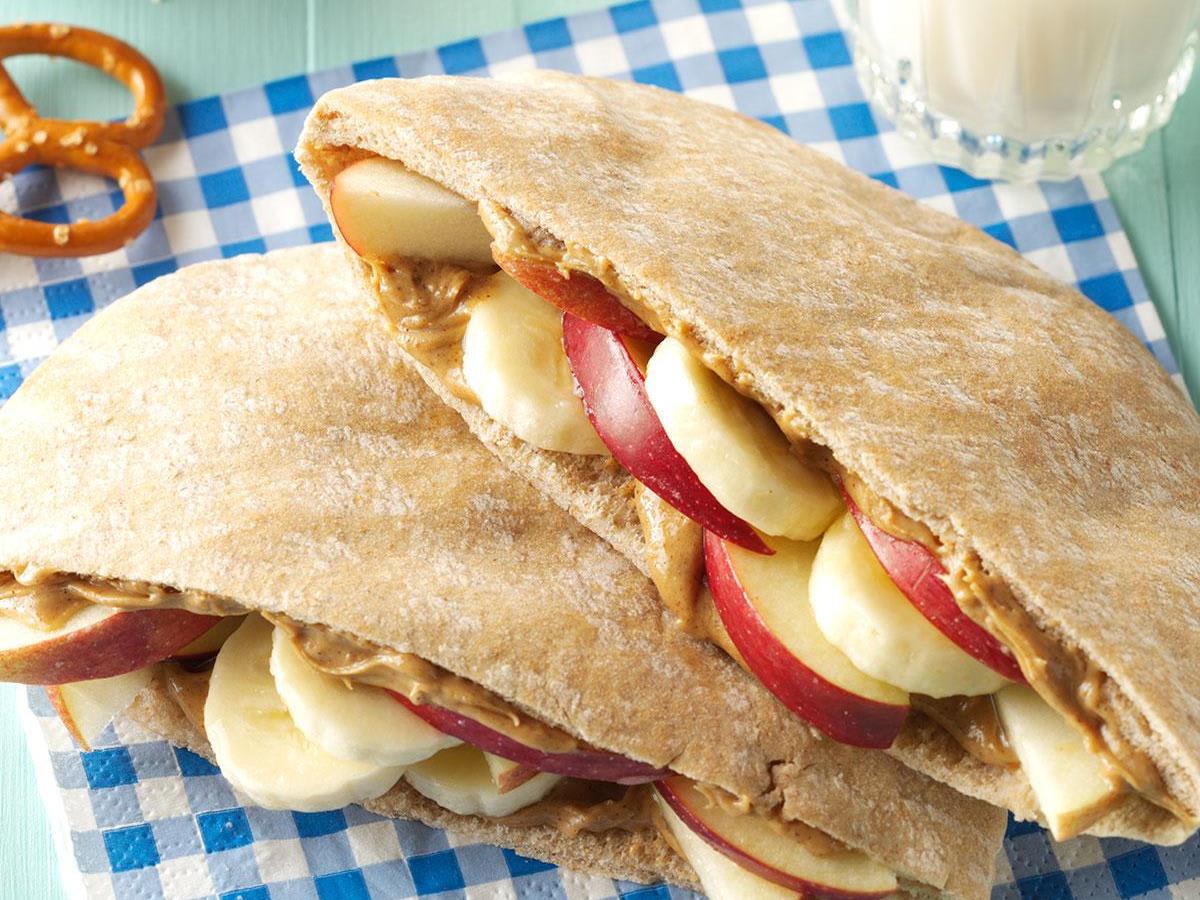 PREPARATION
1. In a small bowl, blend the peanut butter, allspice, cinnamon and nutmeg. Spread inside pita bread halves; fill with apple and banana slices.
​​​​​​​2. Enjoy!
Yield: 4-6 serving
Time: 25 minutes
​​​​​​​INGREDIENTS
Kosher salt & freshly ground pepper
1 pound penne
1 pound broccoli, head cut into florets (3½ cups), stems peeled and thinly sliced (1 cup)
1 clove garlic, finely grated
⅓ cup extra-virgin olive oil
2 teaspoons finely grated lemon zest, plus 3 tbsp fresh juice (from 1 lemon)
½ cup finely grated Parmesan (1 ounce), plus more for serving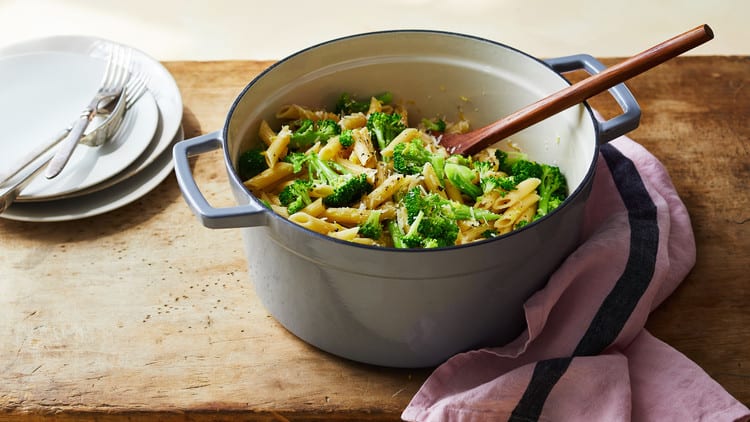 PREPARATION
1. Bring a large pot of salted water to a boil. Add penne and cook 5 minutes. Add broccoli and cook until pasta is just under al dente and broccoli is crisp-tender and bright green, 3 to 4 minutes more. Drain, then add pasta and broccoli back to pot.
​​​​​​​2. Toss with garlic, oil, lemon zest and juice, and cheese. Serve, topped with more cheese.
Yield: 6-8 servings
Time: 45 minutes
​​​​​​​INGREDIENTS
2 medium scallions
1 (3- 4 pound) rotisserie chicken
1½ cups sour cream, divided, plus more for serving if desired
2½ cups shredded Monterey (10 ounces), divided
1 (4-ounce) can chopped green chiles
½ tsp ground cumin
½ tsp kosher salt
8 (10-inch) large flour tortillas
½ cup whole milk
pico de gallo & pickled jalapeños, for serving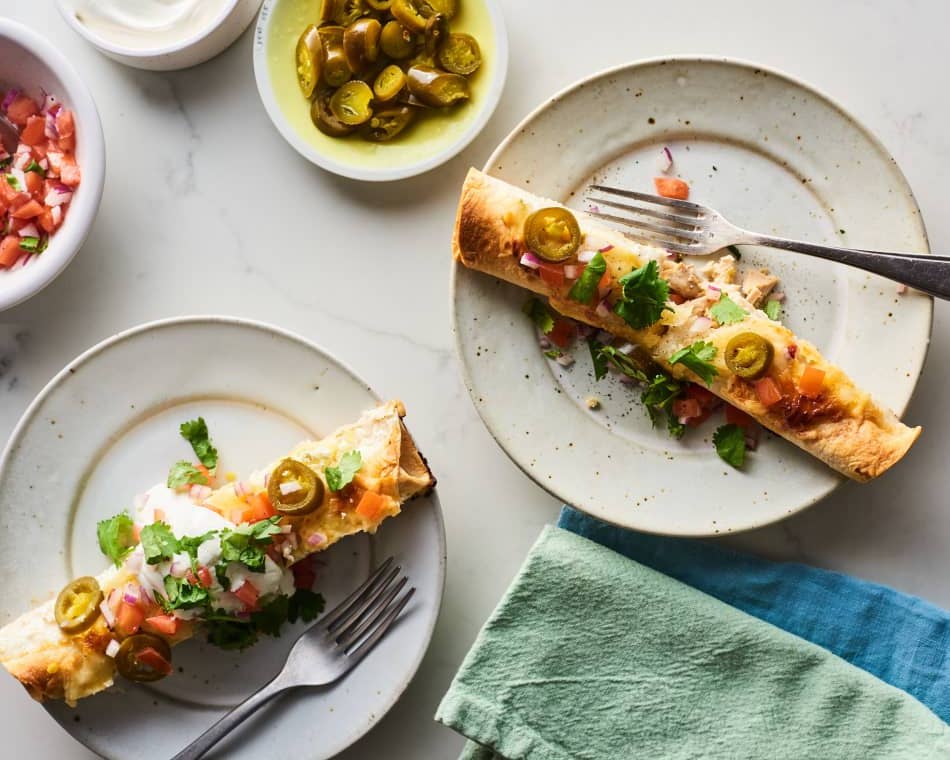 PREPARATION
1. Arrange a rack in the middle of the oven and heat the oven to 350°F. Coat a 9x13-inch baking dish with cooking spray.
2. Thinly slice 2 medium scallions, keeping the white and green parts separate. Place the greens in a small bowl and set aside. Place the whites in a large bowl. Shred the meat from 1 rotisserie chicken, discarding the skin and bones (3 to 4 cups shredded chicken). Add the chicken, 1 cup of the sour cream, 1 cup of the shredded Monterey, 1 can green chiles (do not drain), ½ teaspoon ground cumin, and ½ teaspoon kosher salt, and stir to combine.
3. Scoop about ½ cup filling down the center of each of 8 large flour tortillas. Roll each tortilla up tightly around the filling and place seam-side down in the baking dish, tightly packing them into a single layer.
4. Whisk the remaining ½ cup sour cream and ½ cup whole milk together in a small bowl, then pour evenly over the enchiladas. Sprinkle with the remaining 1½ cups shredded Monterey.
​​​​​​​5. Bake until the cheese melts and begins to brown, 30 to 35 minutes. Let cool 5 minutes before sprinkling with the reserved green onion tops. Serve with more sour cream, pico de gallo, and pickled jalapeños if desired.
LASAGNA MINI CUPS
CHRISTY DENNEY

Yield: 12 servings
Time: 35 minutes
​​​​​​​INGREDIENTS
⅓ pound ground beef
salt & pepper
24 wonton wrappers
1¾ cups parmesan cheese grated
1¾ cups mozzarella cheese shredded
¾ cup ricotta cheese
1 cup pasta sauce
basil for garnish optional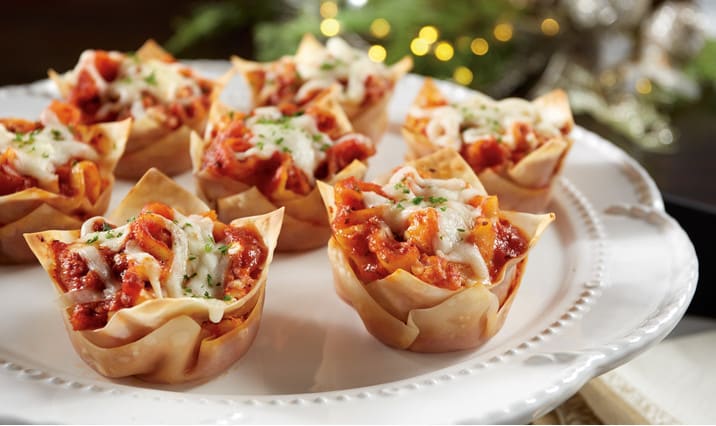 PREPARATION
1. Preheat oven to 375ºF. Spray muffin tin with cooking spray.
2. Brown beef in a skillet and season with salt and pepper. Drain.
3. Cut wonton wrappers into circle shapes, about 2 1/4-inches wide, using a biscuit cutter or the top of a drinking glass. You can cut several at a time. Tip: For a more rustic look, leave wonton wrappers uncut.
4. Reserve 3/4 cup Parmesan cheese and 3/4 cup mozzarella cheese for the top of your cupcakes. Start layering your lasagna cupcakes. Begin with a wonton wrapper and press it into the bottom of each muffin tin cup. Sprinkle a little Parmesan cheese, ricotta cheese, and mozzarella cheese in each. top with a little meat and pasta sauce.
5. Repeat layers (wonton, Parmesan, ricotta, mozzarella, and pasta sauce). Top each cupcake with some of the reserved Parmesan and mozzarella cheeses.
​​​​​​​6. Bake for 18-20 minutes or until edges are brown. Remove from oven and let cool for 5 minutes. To remove, use a knife to loosen the edges, then pop each lasagna cupcake out. Garnish with basil and serve.